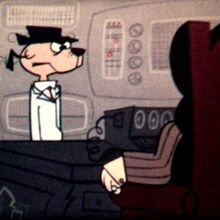 He was the voice of Agent John Sulfur in The Flash when
Sally discovers a camera, and turns on the Flash to witness after
the big bang.
Born: Oct 29, 1938 (age 78) ·Haifa, Palestine
Sally Sulfur (1998) Agent John Sulfur
Non Sally Sulfur
Fractured Fables (1967) N/A
James Hound (1964) Creator (Dayton Allen)
The Mighty Heroes (1969) Creator (Hershel Bernardi)
Sad Cat (1965) Creator (Bob McFadden)
Terry Toons (1956) N/A
Hey Good Looking (1982) Director (Richard Romanus)
Tatter Town (1988) N/A
Fritz the Cat (1972) Director (Skip Hinnant)
__________________________________
Ad blocker interference detected!
Wikia is a free-to-use site that makes money from advertising. We have a modified experience for viewers using ad blockers

Wikia is not accessible if you've made further modifications. Remove the custom ad blocker rule(s) and the page will load as expected.